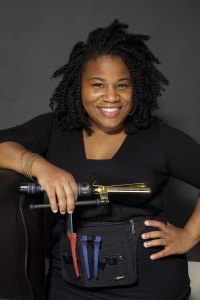 Tracey Spruill is a honors graduate of North Carolina Agricultural and Technical State University where she earned a Bachelor of Science degree in Accounting.  She was raised in Durham, NC but currently resides in Charlotte, NC and is the proud daughter of Bobby and Hazel Spruill. Tracey has an older brother named Eric and an identical twin sister named Stacey.  Tracey's passion for cosmetology began at an early age.  As a little girl, she and her twin sister spent a vast amount of time in the beauty shop.  She remembers sitting for what felt like hours in the salon chair to get her hair pressed.  Although she was never excited about getting her hair pressed, she was always interested in the skill it took to style and care for hair.  Like most people, Tracey styled her dolls' and as she got older she did her family and friends' hair.  While in college Tracey was a member of Couture Productions, a modeling troop on campus.  As a member she had the opportunity to do hair for all of their fashion shows.  She truly enjoyed this experience because it allowed her to create styles that would not necessarily be worn on a daily basis.
Tracey studied Cosmetology at Aveda Institute – Chapel Hill where she was fortunate enough to learn from a diverse group of talented instructors and where she received her licensure.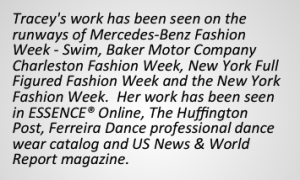 Over the
past nine years as a licensed cosmetologist, Tracey has continued expanding her knowledge of the industry, has gained experience working with different textures of hair, achieved certification in hair weaving/hair extensions and has increased her presence in bridal hair.  Tracey's work has been seen on the runways of Mercedes-Benz Fashion Week – Swim, Baker Motor Company Charleston Fashion Week, New York Full Figured Fashion Week and the New York Fashion Week.  Her work has been seen in ESSENCE® Online, The Huffington Post, Ferreira Dance professional dance wear catalog and US News & World Report magazine.
Tracey continues to uphold the integrity of the industry through her work and by informally educating others.  She plans to instill the importance of proper hair care to achieve healthy hair through educating her guests on proper hair care techniques.
"Your vision will become clear only when you can look into your own heart.  Who looks outside, dreams; who looks inside, awakes."  – Carl Jung, Analytical Psychologist